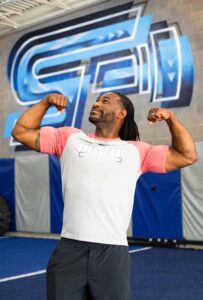 Stanback is a product of the inner city Central District of Seattle, Washington. Raised in a single parent household located in a less than favorable neighborhood Isaiah learned, early on, the significance of making the right choices. Although his athleticism and love for sports were developed early with his first love of baseball, Isaiah was not introduced to football until he was 13 years old; almost a decade later than most of his peers. However, his determination and tenacity enabled him to climb to the top of every league he entered. Upon entering high school, Isaiah maintained his participation in Varsity Track, Football, Basketball and Baseball. It was in high school that Isaiah began to face the challenges of decision making. Choosing to go the opposite direction of a number of his close friends, Isaiah maintained his focus on school and sports.
Eventually earning letters in all four sports, Isaiah declined the opportunity to go pro in baseball. He instead, accepted a full ride scholarship to the University of Washington where he participated in Baseball, Track and Football. Ultimately he became the starting quarterback and earned his Bachelors of Arts degree in American Ethnic Studies. Despite suffering what many might have seen as a career ending injury in one of his senior games in college, Isaiah rehabbed 100% and entered the 2007 draft and was picked up in the 4th round by the Dallas Cowboys. Isaiah spent his first 2 years with the Dallas Cowboys, sustaining 3 injuries, undergoing 3 surgeries from which he again recovered 100%. After his 2nd year with the Dallas Cowboys, Isaiah went on to play for the New England Patriots as a QB & WR for a year and was then picked up by the Seattle Seahawks.
Given the opportunity to return home to play, Isaiah was unfortunately burdened by a torn achilles tendon, only weeks away from his first preseason game. After an operation, Isaiah recovered 100% again and returned to his team only to be let go in the final round of roster cuts. Another injury many figured would end his career, Isaiah surprised many when he returned to the league only a few months later to join the New York Giants with whom he earned a Super Bowl ring. After being released in the final cuts with the Giants the following year Isaiah was picked up by the Jacksonville Jaguars for whom he played TE. Outside of football, Isaiah is a MBA graduate of the George Washington University School of Business.