Peter gr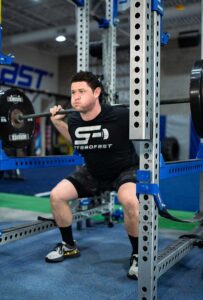 ew up playing youth hockey in the DFW Area with the Grapevine Lightning youth hockey club. During the summer Peter spent his time at The Vladislav Tretiak Elite School of Goaltending, learning his techniques from 3 time Olympic Champion and one of the greatest goaltenders in the history of the sport. In 2004 Peter lead Grapevine High School to the Section 4 Championship and a berth in the Texas State Championships, where his team placed 3rd. In 2005, he graduated high school and was recruited to play junior hockey in the Northeast.
After 2 years of junior hockey with the Boston Jr. Blackhawks (IJHL), Peter came back to Texas and enrolled at The University of Texas at Arlington. Having always loved the training and commitment that came with hockey, Peter enrolled in the College of Education and Majored in Kinesiology to further understand the science behind training for sport. With no outlet for competitive hockey, Peter and several other students founded the inaugural UTA Ice Hockey Club (ACHA Div II).
After graduating from UTA in 2011 with his Bachelor of Science in Exercise Science, he went to work implementing strength and conditioning programs for various sports organizations. As he implemented these programs with success, he was asked to join the coaching staff of the Texas Brahmas Junior A Hockey Club of the NA3HL for the 2014-15 season.
Peter is a Certified Strength and Conditioning Specialist and member of the National Strength and Conditioning Association. He has been attending NSCA's Training for Hockey Clinic every year since its debut. The clinic features elite strength coaches from hockey teams across the U.S. and Canada at the exclusive training event of the year. With powerful presentations and hands-on demonstrations, Peter learns the essentials of training up close and personal from leaders in hockey strength and conditioning.
Whether he's training youth, professional or somewhere in between, training at Steadfast Fitness and Performance with Peter is an unmatched opportunity to prepare your athletes to excel in whatever sport they participate.